Kitchen Countertops Fabrication and Installation
Welcome to PRO-TOPS. We appreciate your interest in our products and services. PRO-TOPS is the leading fabricator and installer of fine kitchen countertops in Charlotte. We install granite, quartz and marble countertops for both residential and commercial customers at a competitive price.
Over the past 12 years, the professionals at PRO-TOPS have installed thousands of kitchen countertops in homes and businesses across the Charlotte region. If you want an experienced and reputable countertops company to construct and install beautiful stone or solid-surface countertops for your kitchen or bathrooms, PRO-TOPS is the best company in Charlotte to hire for the job.
An experienced and reputable company you can rely on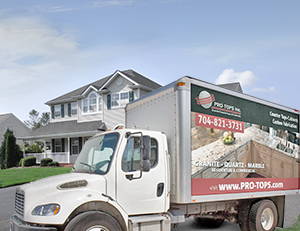 Since starting our operations over 15 years ago, we've been really busy serving our customers. We've fabricated and installed thousands of high quality kitchen countertops and bathroom vanities for home builders, contractors, kitchen and bath dealers, designers and homeowners in the Charlotte area. We attribute our success and tremendous growth over the years to the high quality products and services we deliver everyday to our customers. Our goal is to provide the best quality products and services while keeping our prices affordable. Many thanks to all the customers who chose PRO-TOPS to build their countertops and whom in turn have referred us to their friends and family members – we owe a big part of our success to you.
At PRO-TOPS, quality products, exceptional service and friendly customer support all play a major part in our company culture. We take pride in fabricating and installing kitchen countertops and bathroom vanities and after installing thousands of them, our passion for what we do is still very much alive.
Granite countertops and other types of stone tops
PRO-TOPS maintains one of the largest inventory of natural stones in the Charlotte area with over 30,000 square feet of outdoor space where we inventory granite slabs and other natural stones. With such a large selection of colors (over 50), from basic to exotic, PRO-TOPS simplifies the color selection process making it easier and convenient for customers to pick slabs from which kitchen countertops will be custom-fabricated. And if we don't carry a color a customer wants, we can order it from one of our distributors.
We fabricate and install granite countertops, marble countertops, quartz countertops and solid surface countertops (cultured marble). PRO-TOPS also installs sinks, faucets and kitchen cabinets.
Affordability
PRO-TOPS uses high-tech industrial machinery to fabricate and polish granite countertops at our local factory. We are able to cut stone slabs much faster and more precisely, hence shortening fabrication time without compromising quality. By maximizing operational efficiencies and by leveraging newer technology and tooling, we reduce production time per project and pass on the savings to our customers. We are also able to reduce lead-time from order to installation, hence delivering and installing kitchen countertops much quicker to customers than our competition. Our state-of-the-art automated industrial machinery, truck fleet and factory-trained professional estimators and installers have made it possible for PRO-TOPS to install 10 to 15 granite countertops daily.
Hassle free estimates
PRO-TOPS makes it easy for you to get an estimate. Even though we do not give out prices over the phone, PRO-TOPS is making available an easy to use, downloadable counter top template for your kitchen and bathroom countertops. The downloadable template explains how to measure your countertops. Once you have your measurements, you will be able to forward them to us by email and we will compute a quote for you.
You can call us at (704) 821-3731 during our normal business hours, fill out our online contact form, or email us.